Originally, panzanella was a Tuscan salad made of day-old bread, fresh tomatoes, olive oil, salt and vinegar. Over the years, there have been renditions with fall vegetables, sweet fruits, grilled versions and more. The 'crouton' being the only ingredient that stands strong in all circumstances.
This seasonal panzanella takes all of about 20 minutes to throw together. If you have time, you can roast your own peppers, boil your own chickpeas and blend your own pesto. However, if you need to save yourself a few steps, these items are available, pre-made at a grocery or health food store. If you have a local farmers market, especially in California, tomatoes, peppers and greens are plenty. This recipe is a starting point, but use this as an opportunity to use your fresh produce or appropriate leftovers.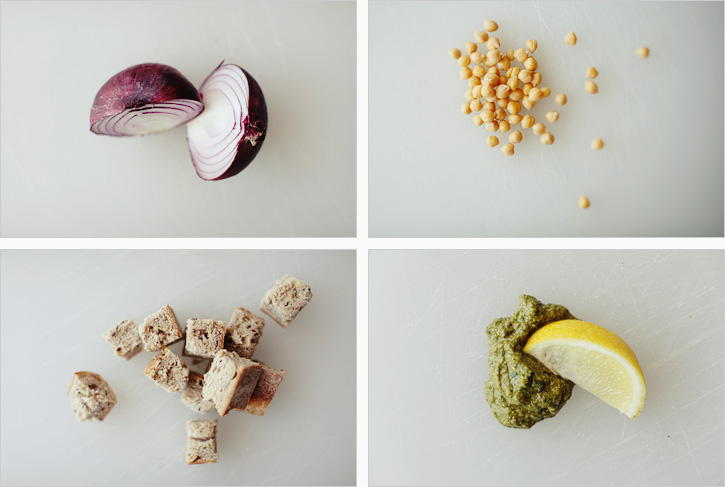 END OF SUMMER PANZANELLA // Serves 4 as a side
3 Cups Whole Grain Bread, in 1' Cubes
½ Cup Roasted Red Peppers (make your own or use a jar)
2 Medium Heirloom Tomatoes
½ Medium Sized Red Onion
1 Cup Garbanzo Beans, fresh or canned
1 Cup Basil, Roughly Chopped
1 Cup Arugula
¼ Cup Toasted Pine Nuts
1 tbsp. Extra Virgin Olive Oil
Garlic Salt and Fresh Ground Pepper
PESTO DRESSING // Pesto recipe found (here)
3 tbsp. Pesto
2 tbsp. Lemon Juice
Oven to 400'
Spread the bread cubes on a baking sheet, drizzle with the tablespoon of extra virgin olive oil and toss them around in the baking pan. Give a generous sploosh of salt and pepper and toast in the top rack of the oven for ten minutes. Toss them around half way through baking time.
Prepare your veggies. Give a rough chop to the roasted red peppers. Slice the tomato into cubes, leave them seeded. Slice the red onion as thin as possible either with your amazing knife skills or a mandolin.
In a large bowl, combine the bread, tomatoes (and some of their juices), red onion, red peppers, garbanzo beans, arugula, half of the basil and pine nuts.
Combine the pesto ingredients together with a small whisk. Drizzle desired amount onto the panzanella and toss. Serve immediately once tossed, soggy croutons aren't so good.