There are moments when the weight of something simple, gets the best of you. All the beliefs and values we have, that compose this big ol' life of ours, can get generalized or maybe even overlooked until someone or some moment or some thing breaks out and makes life quite genuine.
I was reminded yesterday of how much we need people. I have some great people around me, and I am so thankful for the different facets of relationships. All the little wedding decisions and to-do lists got the best of me yesterday, and I lost it while talking to my mom about the color of invitation paper (by lose it, I mean tears, not angry rage). We sat on my parents backyard steps, and I needed her to hug me right then and change the subject. I needed her to comfort me, and ummm, I needed her to go pick out the paper as well. I am SO excited to get married, beyond anxious, but a few tears are expected in all of this. We're not as independent as we'd like to think we are, and it's humbling to admit that we need people; that we're dependent. Sometimes I think we need to be reminded of the obvious, and sometimes it's the little things that take us there. I could keep my mini life lessons to myself, but knowing how I often get wrapped up in my own inner dialogue, I thought one of you may need to get out of your head for a second as well.
On that note, it seems avocado toast is the trendy snack of the summer. I am a partaker myself, but needed another quick snack option, that resembles the satisfying greatness that comes from goodies piled on a good slice of grainy toast. You could use any spreadable cheese of choice, but ricotta keeps everything nice and moist here. Consider making extra zucchini, then you're set for the next few snack times.
ZUCCHINI TOASTS // Makes 4 Toasts, Serves 2
1 Fresh Whole Grain Loaf
4 Zucchini (About 2 1/2 Cups when diced)
1 Tbsp. Olive Oil
2-3 tsp. Lemon Pepper
1 tsp. Fennel Seed (optional)
Sea Salt (If your Lemon Pepper Blend DOESN'T have salt already)
1 Cup Ricotta Cheese
2 Tbsp. Minced Shallot
1 Tbsp. Dijon Mustard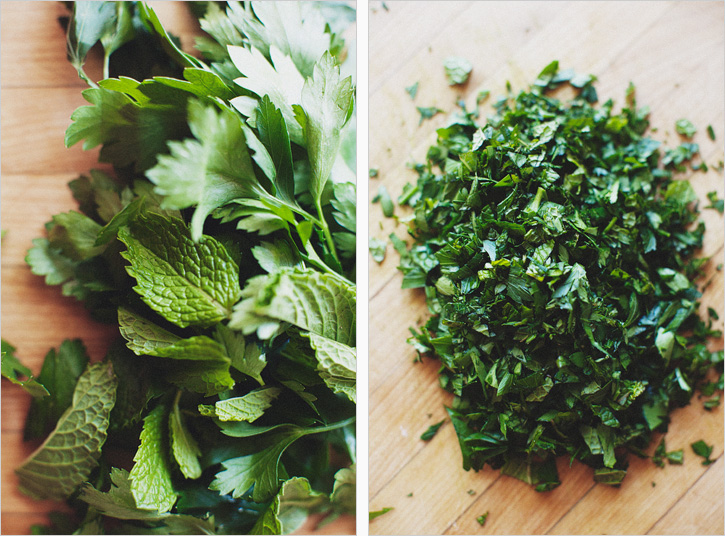 Fresh Parsley + Mint
Oven to 475'
1. Cut both end off the zucchini. Cut each in half length wise, then each long half into 4 sticks, dice. Repeat with remaining zucchini.
2. Spread zucchini on a large baking sheet, drizzle the olive oil and lemon pepper, optional fennel seed, and salt IF needed. The zucchini should have a very light coating of oil, add a bit more if need be. Use your preferences on the amount of spices too. Spread to make one even layer on the baking tray for more browning. Bake on the upper third rack for 18-20 minutes, or until they've got some good crispy edges. Remove to cool.
3. While zucchini is roasting, mix the ricotta, mustard and shallot together in a small bowl, set aside.
4. Chop even amounts parsley and mint, about 1/3 cup in total.
5. Toast your bread slices, I thought 1/2'' thick was perfect. Spread a few dollops of the ricotta mix, a sprinkle of the herb mix, pile zucchini on top, and another sprinkle of herbs. Yum.