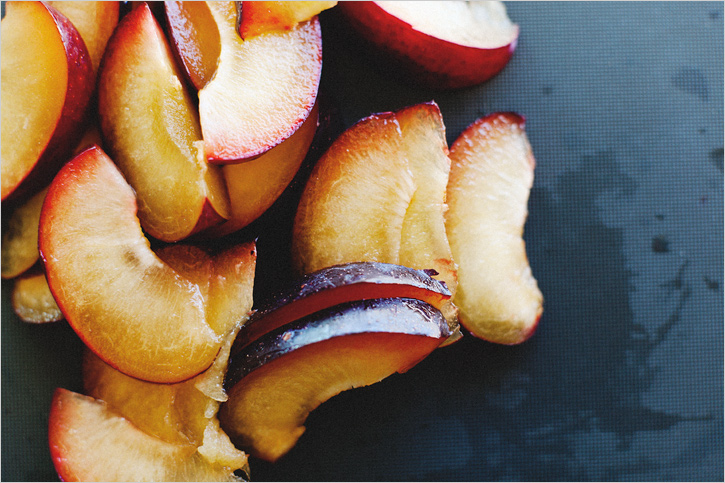 There was a piece in Sunset magazine from writer Anne Lamott awhile back, and I was redirected to it recently from Orangette. Anne Lamott is a great writer, I have read a couple of her books, and appreciate how she makes points with both humility and humor. The line that struck me the most was "Time is not free - that's why it is so precious and worth fighting for". I make plans with my sister-in-law months in advance, or start discussing a date for a dinner with friends weeks before it's a reality, but isn't that how time goes? We fill it up in trying to get the most out of it, and then end up a bit drained. I just think you should read the article, it will mean something.
I've been envisioning this tart for awhile now, after seeing the posts from the two ladies mentioned below. Hugh shakes his head when we do a post over something I haven't ever made before (which is actually pretty frequent). It is time consuming, especially at the moment while both of us have pretty full plates, but I took a chance. The crust is great, with a nice crunch of cornmeal, and not so much butter than you feel a bit of guilt with each bite. The plums are sweet, barely tart, with some nice texture from not being cooked much at all. Then there's the filling, which may have turned out a bit gooey on first run (I made changes below, don't fret!), but it tastes quite nice. We started this blog as a creative outlet - a place for both of us to collaborate on things we enjoy, food and pictures. The moment it becomes solely about perfect food and a perfect story and mass traffic, I'll have lost sight of why we started doing this in the first place. I love sharing this space, am grateful for relationships I've started and opportunities that have come from it, but every now and then, the tart turns out a little gooey, alright? We ate it anyway, cause time is precious, and if you're waiting for everything to be perfect... you're going to be doing a lot of waiting. Cheers.
PLUM TART WITH MASCARPONE CREAM
With influence from Not Without Salt and Beyond The Plate
As mentioned, the first time around I used honey and cream to thin out the mascarpone, which was unnecessary once it went back in the oven. Even if you want to play around with the sweetener, just make sure it is a dry one, as things melt during its second trip to the oven.
1/2 Cup Cornmeal
1 Cup White Whole Wheat Flour
1 Tbsp. Natural Cane Sugar
1/2 tsp. Sea Salt
4 Tbsp. Cold Butter or Coconut Oil
2-3 Tbsp. Ice Cold Water
4 Ripe Plums
1 Tbsp. Tequila
Bit of Orange Zest
1/2 Cup Mascarpone, room temperature
2 Tbsp. Muscavado or Brown Sugar
1/4 Cup Walnuts
2 Tbsp. Turbinado Sugar
1. The crust can be done in a processor, or by hand with a pastry cutter. For the processor, put all the dry ingredients in the bowl and give them a quick pulse to combine. Cut the cold butter into cubes, add it to the processor and give it a few more pulses so there are little pea size flecks of butter. Add the cold water, 1 Tbsp. at a time, until the crust just begins to hold together (Alternatively, you can cut the butter into the flour mix with a pastry cutter, and add the water 1 Tbsp. at a time as well). Press the dough in an even layer, into a 11x5 rectangular tart pan and put it in the fridge to chill for at least 30 minutes.
2. Preheat the oven to 400'. Bake the crust on the middle rack for 20-25 minutes until golden on the edges, remove to cool.
3. While the crust cools, cut the plum into thin slices and gently toss it in the tequila. In another bowl, mix the mascarpone with the honey. Chop up the walnuts pretty fine (you can use the processor, but I hate washing that thing), mix them in a bowl with the turbinado.
4. Set the oven to 475'. On the cool crust, spread the mascarpone cream, drain the plums if needed then layer them nicely on top of the mascarpone. Lastly, sprinkle the walnut turbinado mix across the top. With a rack in the upper third, bake it another 5 minutes just to toast the top. Put it back in the fridge to cool and set the cream. Eat it!