Just when I said all I can eat this month are desserts, I can safely say that I now want nothing to do with them. The excitement for all things cookie, toffee, gingerbread or peppermint has waned. The pine is dried to a crisp, and people will take their lights down this weekend after making goals for 2010. It is the week when we go from overdosing on sweets, to proposing a regimented health plan for the new year in a matter of days. I'm now craving the deep greens that are in season, warm root vegetables or anything kissed with fresh citrus. Hugh suprised me with a sweet Schwinn bicycle tied with a big red bow for Christmas, now if I can only figure out how to stop successfully and put my helmet on the correct direction, I may be on to a new hobby.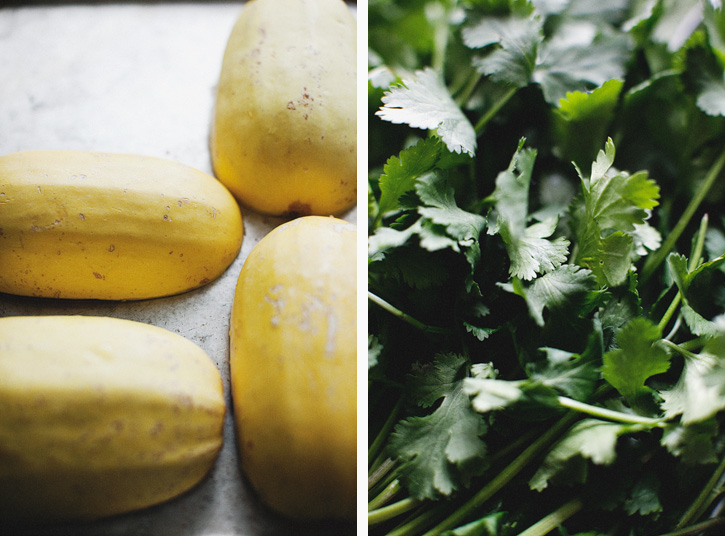 This is a perfect gluten free side dish, that can easily be made in to an entree with some grilled fish, chicken or tofu. The lime makes it taste fresh but the warm squash keeps it comforting enough for the colder weather. We ended up adding some black beans after the pictures, which made it quite filling. The leftovers were even better as all the flavors blended. Queso Fresco is Spanish/Mexican cheese that isn't aged, so it's fairly mild. If you have feta on hand, it works just as well if not better if you like more of a tang.
MEXI SQUASH // Serves 4 as a side
2 to 3 lb. Spaghetti Squash
3/4-1 Cup Queso Fresco/ Feta Cheese
Half Red Onion, Finely Diced
1/3 Cup Cilantro, Chopped
Juice of Two Limes (about 1/4 Cup)
2 Tbsp. Agave Nectar
3 Tbsp. Extra Virgin Olive Oil
2 Garlic Cloves, Minced
1/2 tsp. Cumin
1 tsp Red Pepper Flakes
1 tsp. Coriander Seeds
Salt to Taste
Oven at 375'
1. Cut squash in half length wise, scoop out seeds and place cut side down on a rim baking pan. Fill the bottom for about a half inch of water. Bake on the middle rack for about 50 minutes. You know it is done when the flesh is tender enough to shred easily.
2. While the squash is baking, dice the red onion and chop your cilantro.
3. Make the dressing: start with the red pepper, fresh garlic, coriander and cumin and grind together with a spice grinder, pestel or back of a wooden spoon. Add the lime juice and agave and whisk together. Drizzle in the extra virgin olive oil and whisk again. Add a generous pinch of salt, you can add more at the end.
4. Remove the squash and let it cool enough to handle. With a fork, scrape the inside of the squash into a large bowl, it will look like spaghetti, hence the name. Add the onion and dressing and toss to coat while still warm so it softens the onion and garlic flavors. Test for salt and pepper. Add in the cilantro and half of the cheese, toss again. Serve with fresh cilantro and cheese on top.